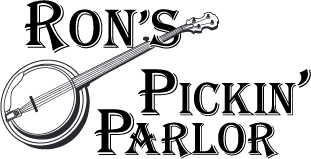 4961 Rushing Rd
Stanfield NC 28163
704-888-9961

If you call and get an
answering machine,
we are most likely with a
student. Please leave a
brief detailed message and
we'll be glad to return your call. Thanks!
banjoron@bellsouth.net

We are an Authorized Dealer for Deering Banjos
The Goodtime banjo was a dream of Greg Deering's to produce a great sounding, easy to play and easy to maintain banjo that everyone could afford.


The Goodtime banjo is made in America, within the Deering factory and is designed to produce the finest tone and playability possible for the lowest possible price. The rock maple neck has the frets fitted into the neck the same way many of the classic (now collector's item) electric guitars in the '60's were made and are still made today. This technique has passed the test of time. The neck has a slender, low profile that makes it a joy to play for hands of all sizes. The fret work is precise and accurate and Goodtime banjos have an ever growing reputation for having clear and beautiful intonation. The tuning machines are all geared with a geared fifth peg for effortless and precise tuning. The position markers on the fingerboard are inlaid dots of black delrin.

The Goodtime banjo is played by top professionals, travelers, beginners and everyone who wants a high quality banjo for a low price. Since it's introduction there have been copycat banjos imported to compete with the Goodtime and we encourage you to compare them. You will find that virtually all of them have emphasized the appearance instead of tone and playability. The Goodtime banjo is designed for easy playing and sparkling, vibrant tone. In the final analysis, the Goodtime banjo is truly in a class by itself and is only overshadowed by banjos costing 5 times as much. Don't settle for a high gloss imitation with plastic inlays that do nothing for sound or playability. Get the only low priced banjo made in America that was made to be played; backed up by a family owned and operated company that has dedicated 25 years to producing the finest banjos money can buy.